I would like to apologize up-front for the terrible quality of the photos. One day, when I get rich from blogging, I will carry around a DSLR and a light source, so I can take beautiful photos of delicious food even in dimly lit restaurants.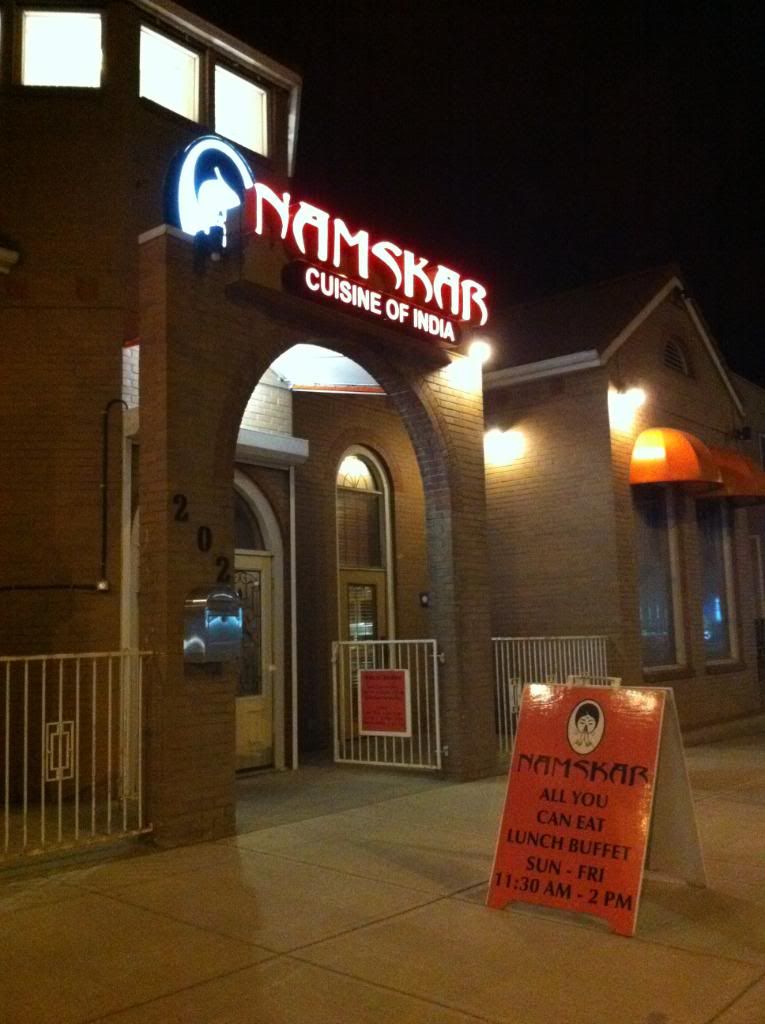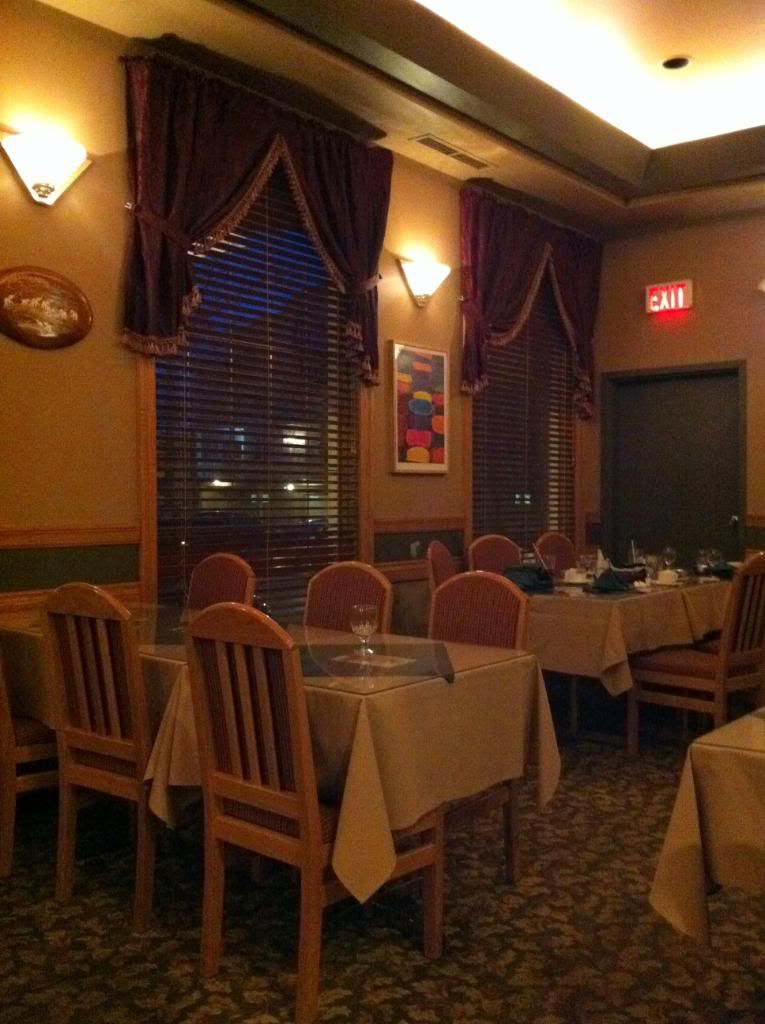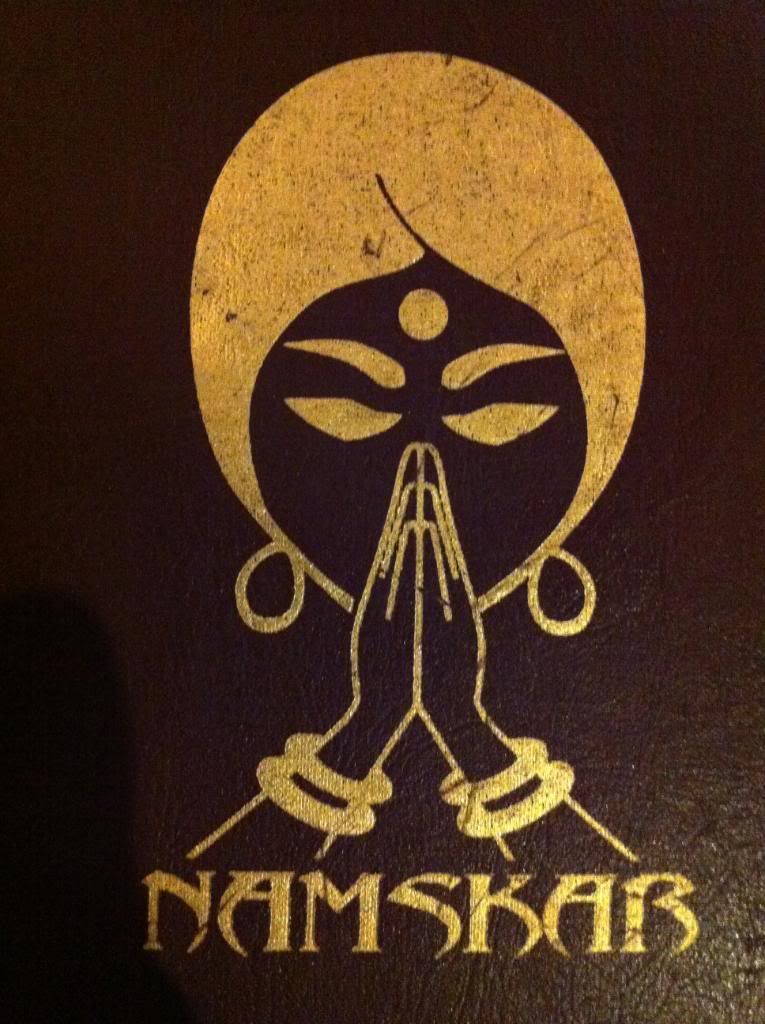 Finally, I get around to writing about our absolute favorite (and only) Indian restaurant
Namskar
. Alright, I'll admit, they are in desperate need of a new website, but look past the annoying intro, random lady reading items from the menu, and startling Indian music that starts playing on every page. This place is awesome. We started going there about a year ago I suppose, and it's been consistently delicious ever since. It's a relatively small place, but very clean, pretty, and quiet, with some Indian-style music playing in the background. The menu is quite large, they have a vegetarian selection, and even an Indo-Chinese menu. So the way it works is, you select a meat dish (we usually get one each) - it does not come with sides, it's just the meat. Then you select your rice (enough for 2 people), bread (2 large pieces per serving) and chutney, if you'd like. The meat dishes pretty much consist of sauce (however spicy you'd like it) and your choice of meat (lamb, chicken, beef, goat, or prawns). You really can't go wrong.
We started off with a bottle of Grashopper and a glass of Beringer White Zinfandel (delicious, BTW). Love their wine glasses!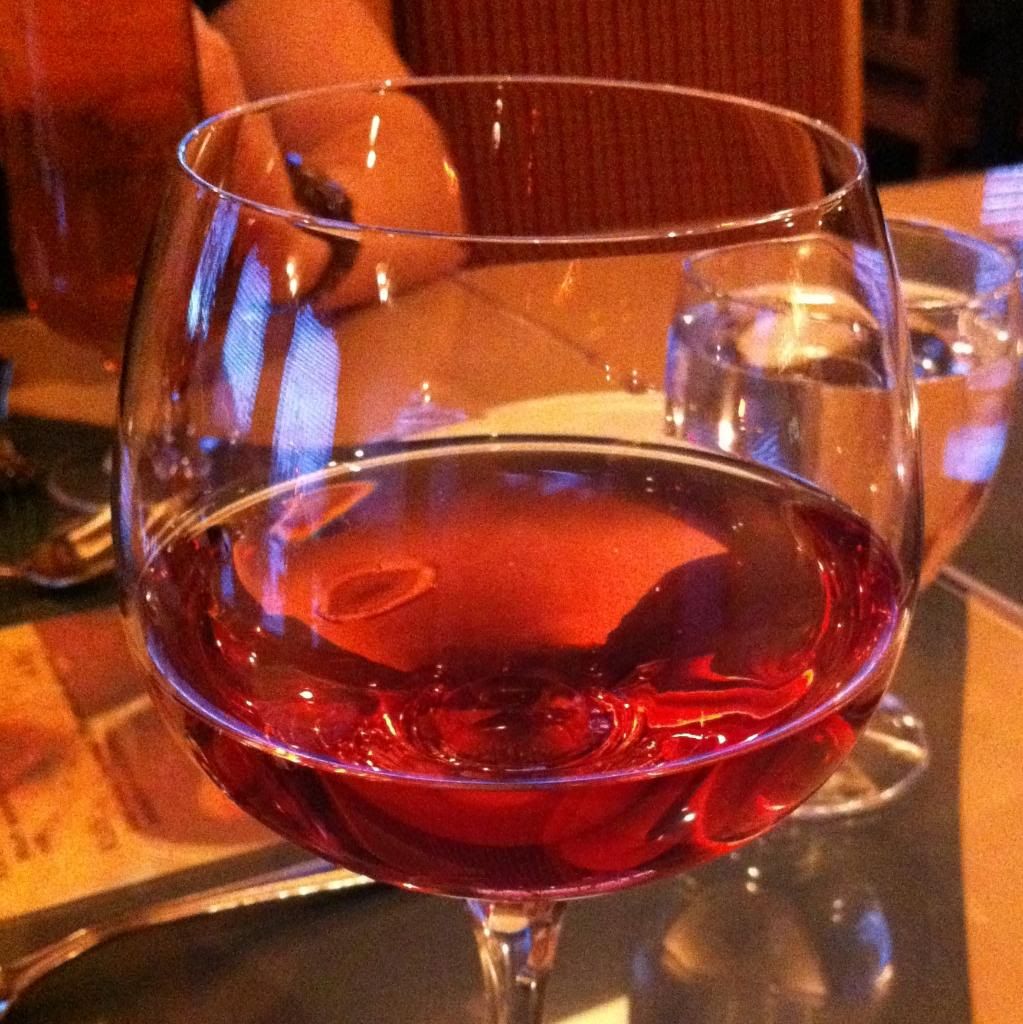 I decided to go with a vegetarian dish - Paneer Do Piazza ("homemade chunks of cheese cooked with bell pepper, onions and tomatoes finished with fresh cilantro"). Honestly, the cheese was very reminiscent of tofu, and I thought it was definitely tofu, but the next day I saw them using paneer cheese on Chopped on the Food Network. The description matched exactly to what this dish contained. I loved the zest of the sauce with the mildness of the cheese. Yum! Nick ordered the Lamb Korma ("meat cooked in mild creamy curry prepared with almonds, cashew nuts,
cardamom, white pepper and poppy seeds") - deeelish. Tender lamb, flavorful sauce. Spicy, obviously. Both dishes were spicy as we have recently come to love spicy food :).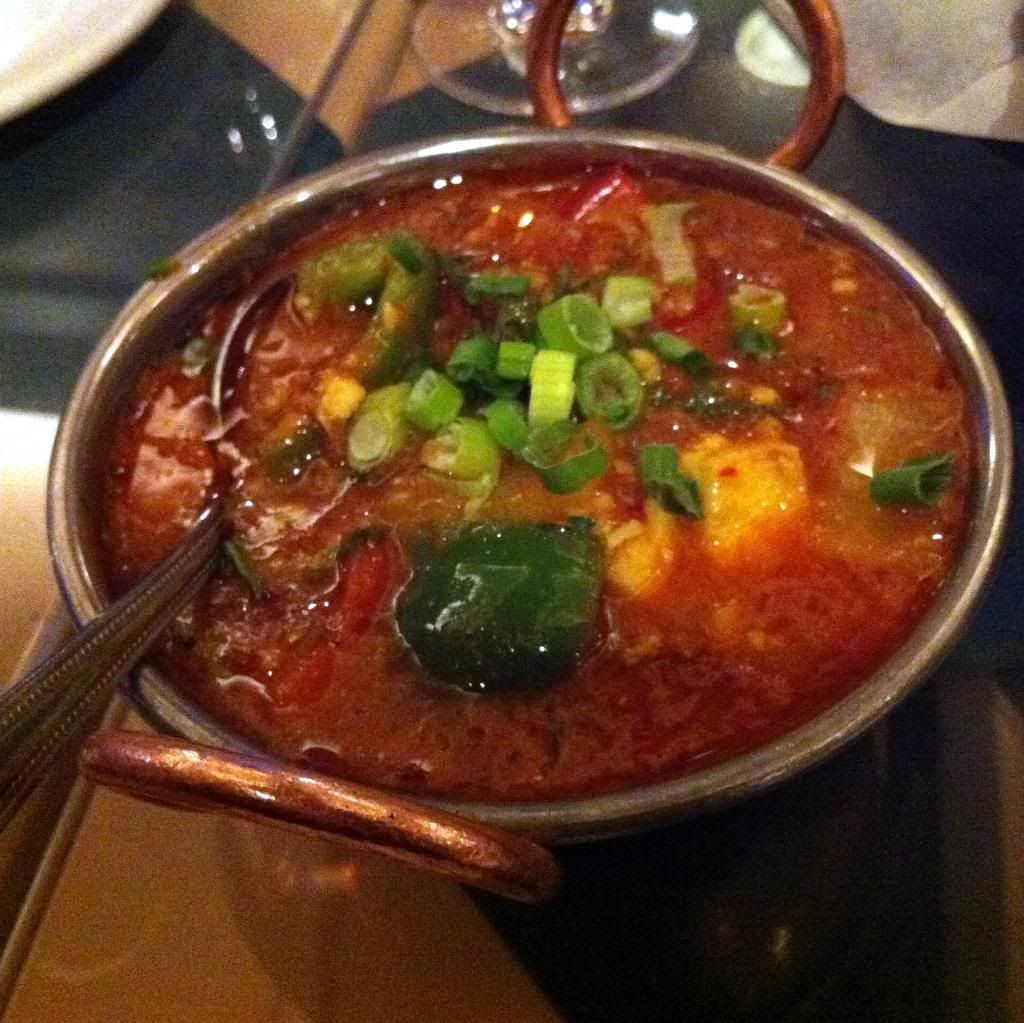 The mains were accompanied by coconut rice (our favorite!) and onion naan (with a cool yogurt sauce of some kind). The naan is always fresh and delicious - we usually get the garlic naan, but we decided to mix it up this time. The coconut rice is buttery and sweet. Since Nick can never get enough of it, we ended up ordering another plate.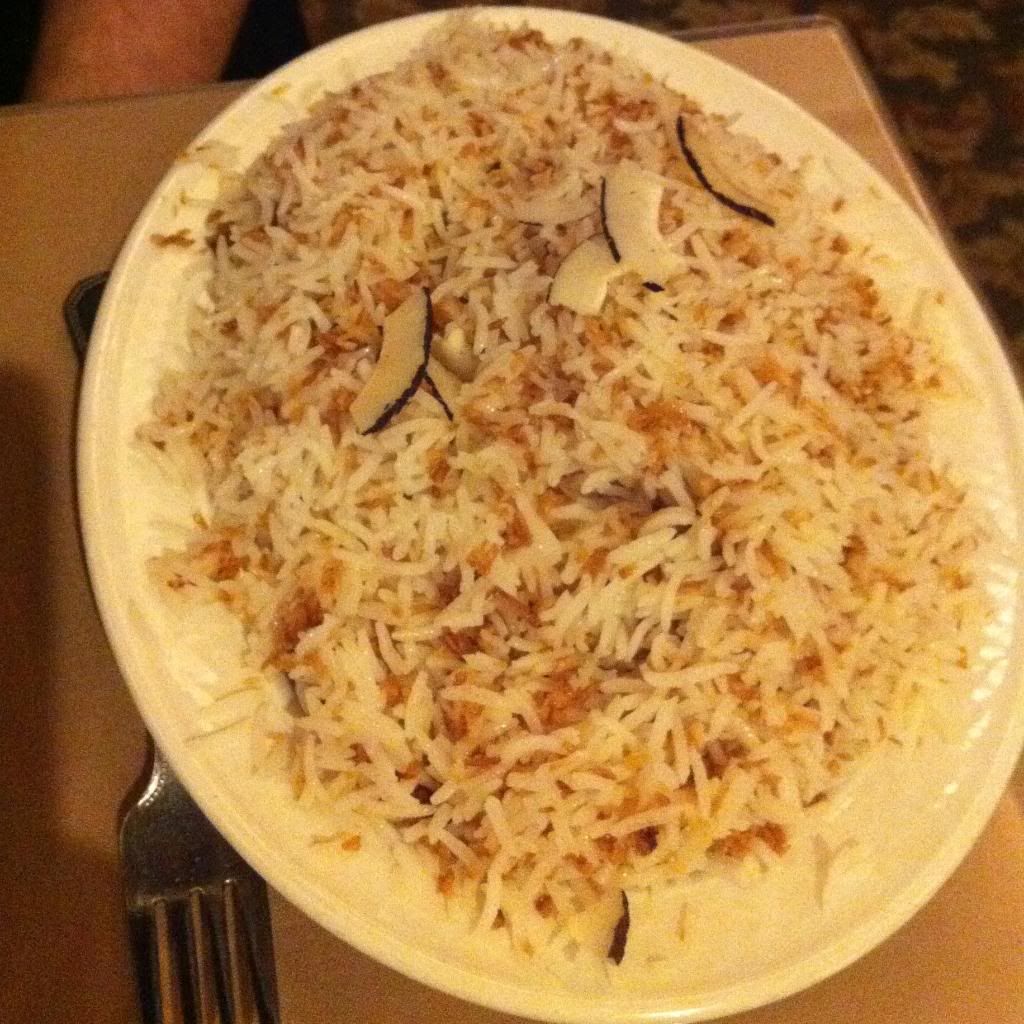 After you're done the meal, the waiter will bring each of you a little bowl with hot water and lemon to wash your fingers with. Love it. Followed by some contains for the leftovers, if you'd like.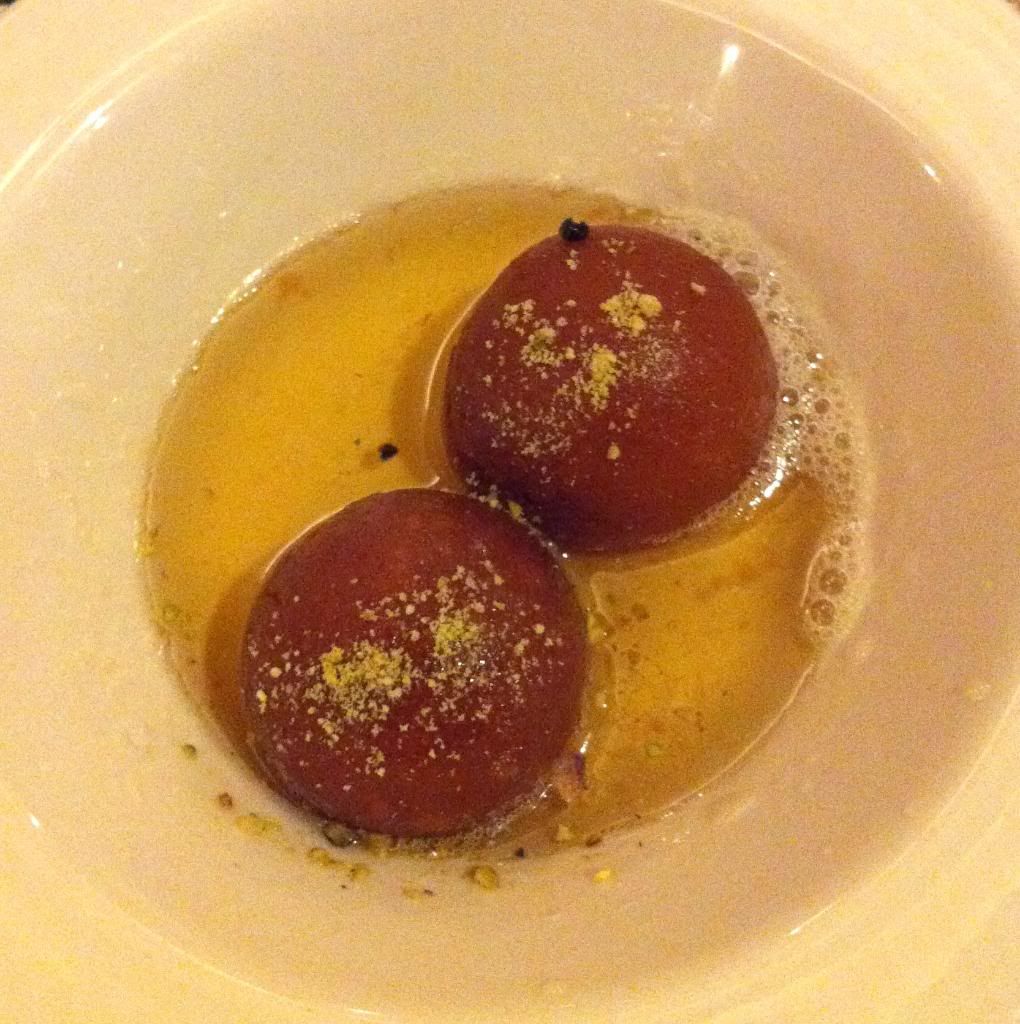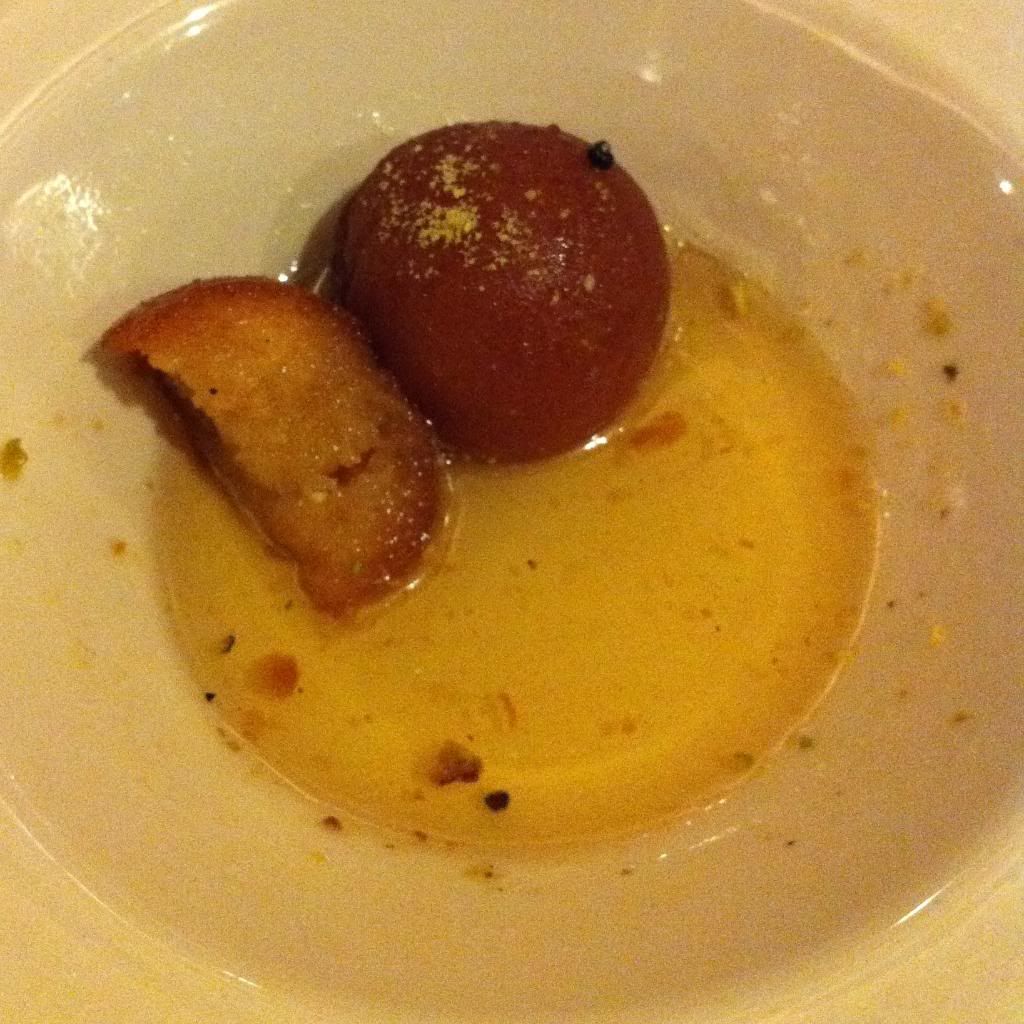 Now to my favorite part - dessert. I crave their dessert all the time. In fact, I'd go for some of that shizen right now. I've come to love the Ras Malai ("slightly saffron flavored, chilled homemade cheese patties in sweet creamy sauce with pistachio nuts"), and Nick - the Gulab Jamun ("milk pastry balls with crushed nuts in warm sweet syrup"). These desserts are so simple, yet so perfect. The cheese patties themselves aren't very sweet, and the sauce is only slightly sweeter, but so perfectly creamy! The syrup that comes with the pastry balls is like liquid gold.
I can't write about this anymore. I'm starving. Everything is really flavorful at this place. Our bill came to about $90 not including tip - well worth it, IMHO. The staff is really friendly, and it's all absolutely adorable. And although some of my Indian "acquaintances" didn't consider this place up to par when it comes to Indian cuisine, I don't give a fuck. Seriously. Visit this place - you will not be disappointed.
Take care, and don't drive like a maniac (seriously, I almost got T-boned today)
Ksenia
Back to Top