FINALLY! After I took a ton of pictures with my old digital camera, I realized that I couldn't find the USB cord for it. Just bought a card reader today and was able to transfer the photos. I got a bunch of stuff piled up, so expect lots of posts!
Starting with the Super Bowl. We had a few friends come over to watch the game, so I figure I make some stuff. I recently (unintentionally) watched that cooking show with Buddy from Cake Boss. That dude is extremely annoying but the food actually looked pretty good! I looked up the wings recipe on the TLC website - horrible to navigate BTW! Anyways, I found it. I never usually marinade anything, so I tried it. Yeah, it's pretty worth it. Turned out pretty good! Okay so here are the recipes and pictures.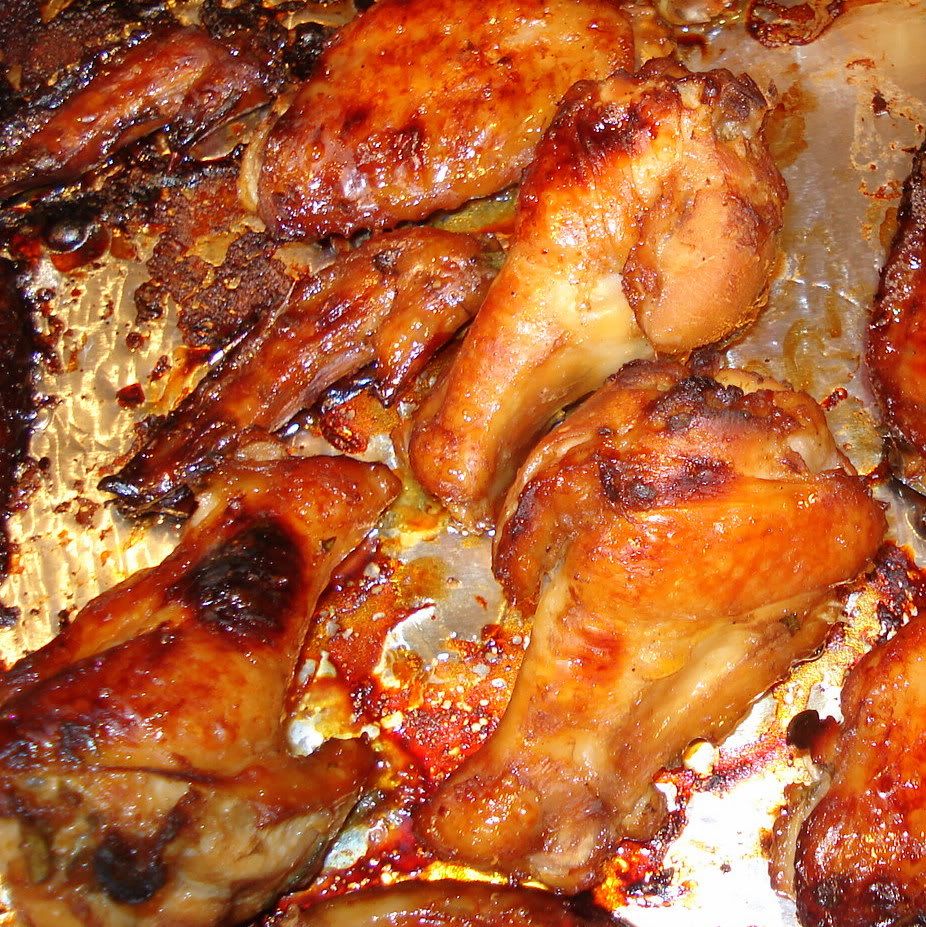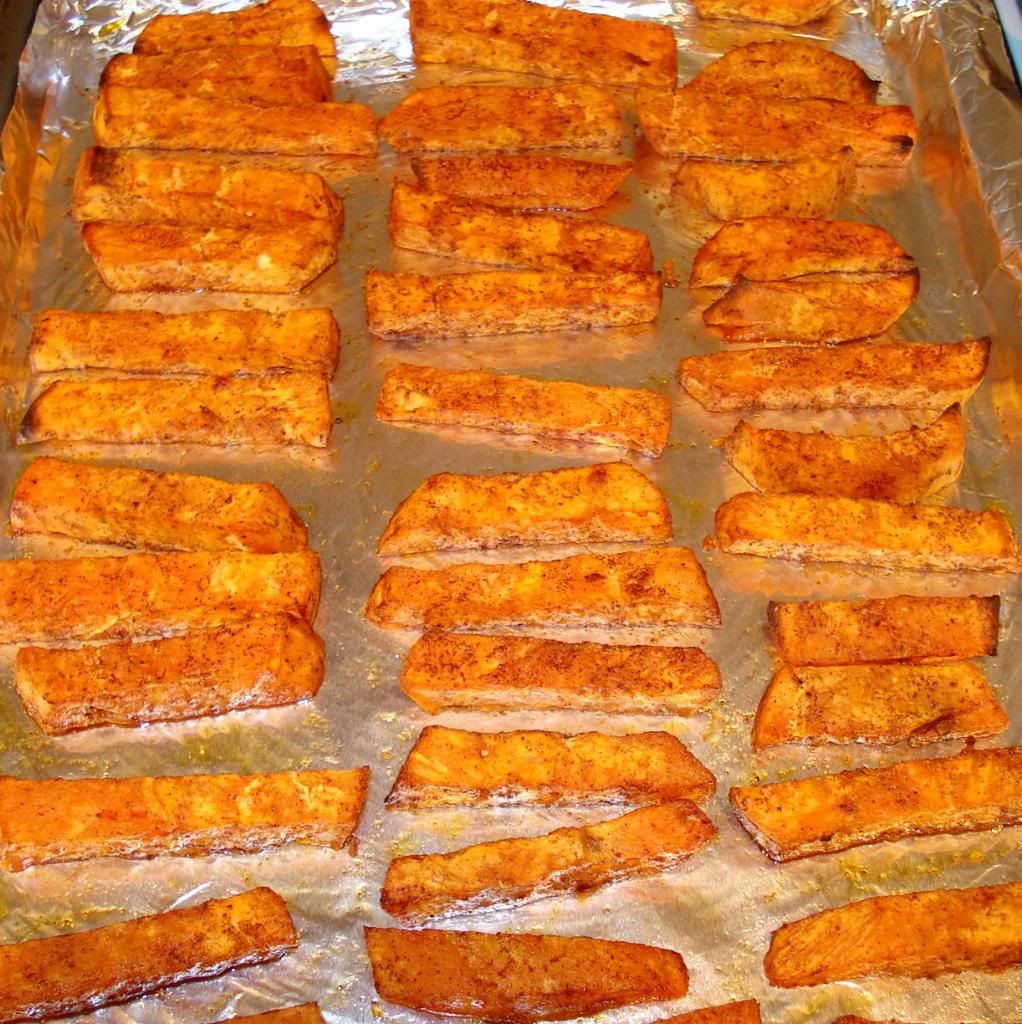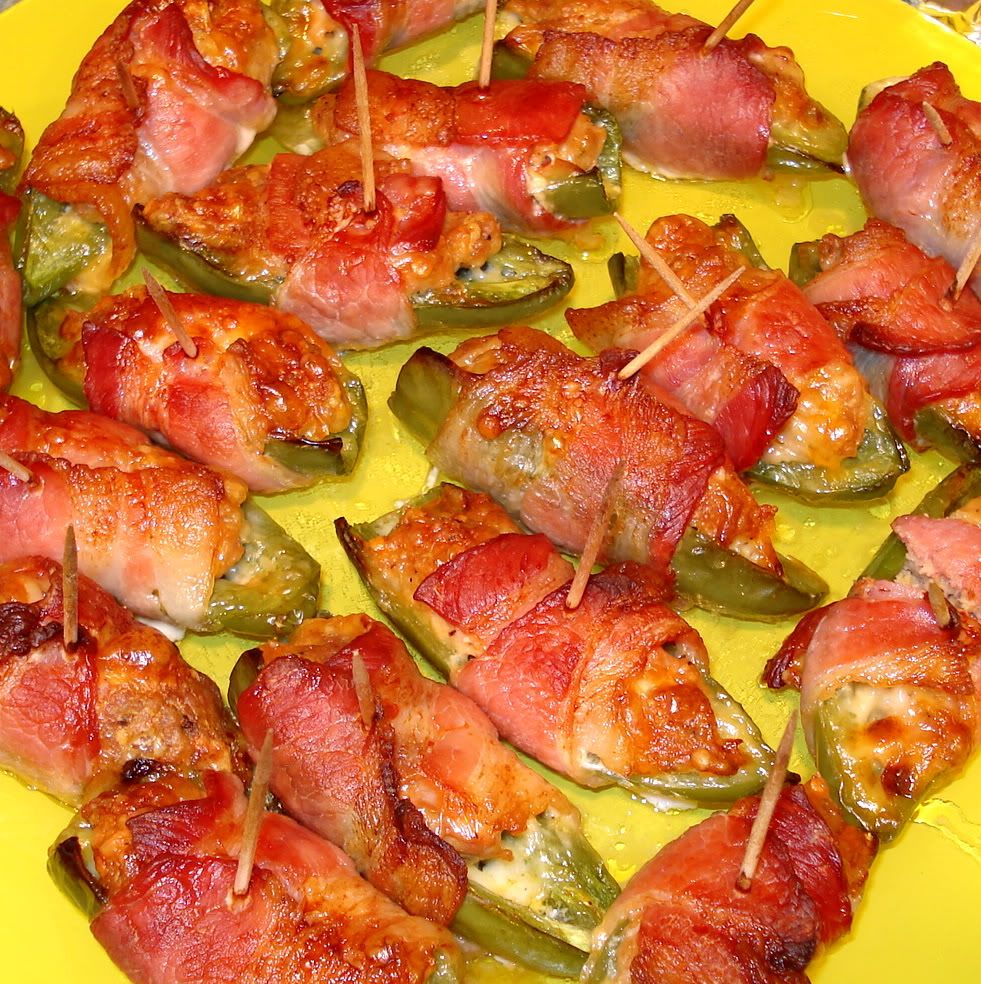 [
Marinated Chicken Wings
]+[
Chipotle Sweet Potato Fries
]
[
Bacon Wrapped Stuffed Jalapenos
]

Marinated Chicken Wings
Makes LOTS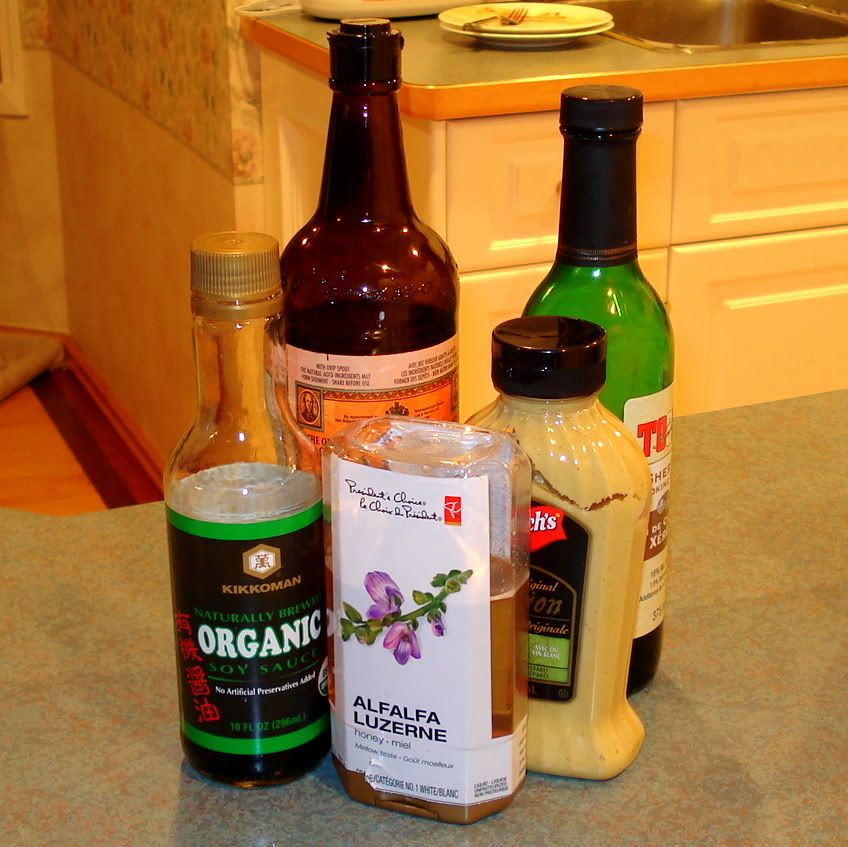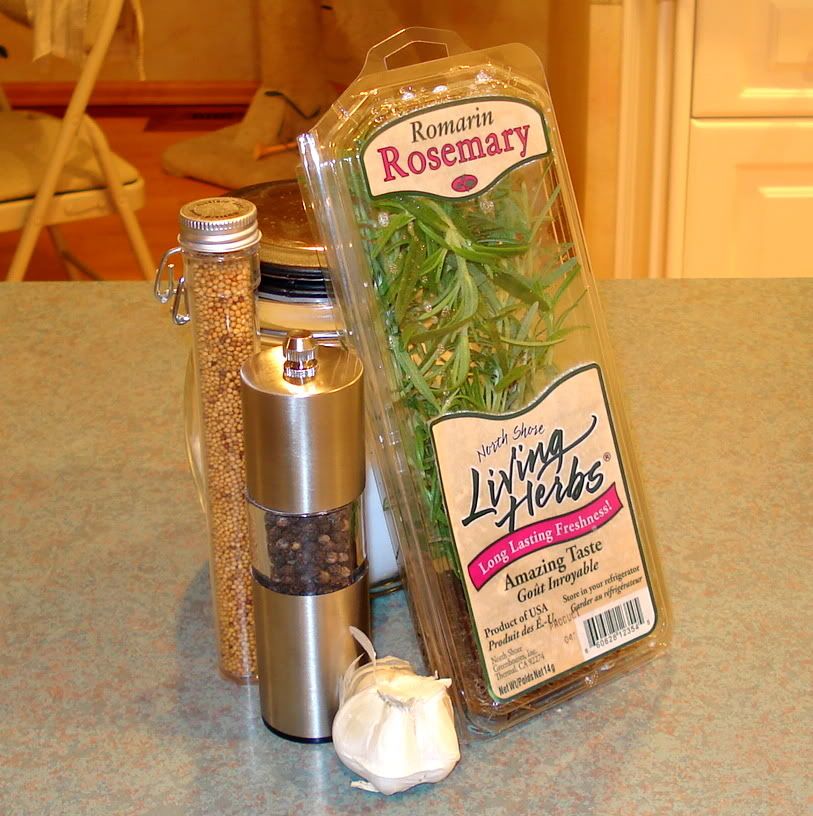 3 lb chicken wings, drumettes and wing joints
1 tbsp butter
Marinade:
1/3 cup soy sauce
1 tsp Worcestershire sauce
1/4 cup honey
1 tbsp sherry
1 tbsp Dijon mustard
1 tsp dry mustard
1 tbsp chopped fresh rosemary
3 pressed cloves garlic
1 fresh red chili, thinly sliced
1 tsp black pepper
1/2 tsp salt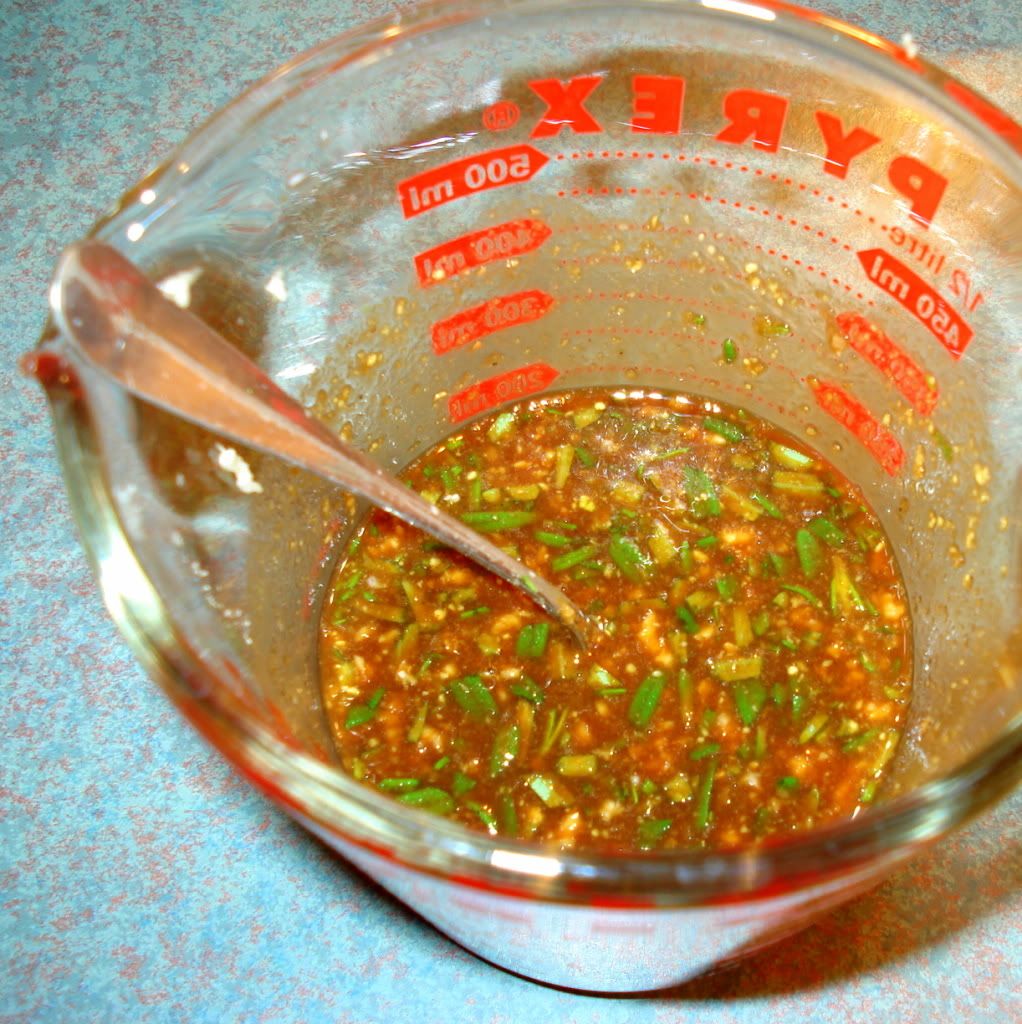 1. Whisk together all marinade ingredients. Place wing pieces in a large Ziploc bag with the ingredients, seal the bag and turn to coat the chicken well. Marinate in the refrigerator overnight (can be marinated two days ahead).
2. Preheat oven to 375 F. Line a half sheet pan with heavy duty foil and spray lightly or brush with oil.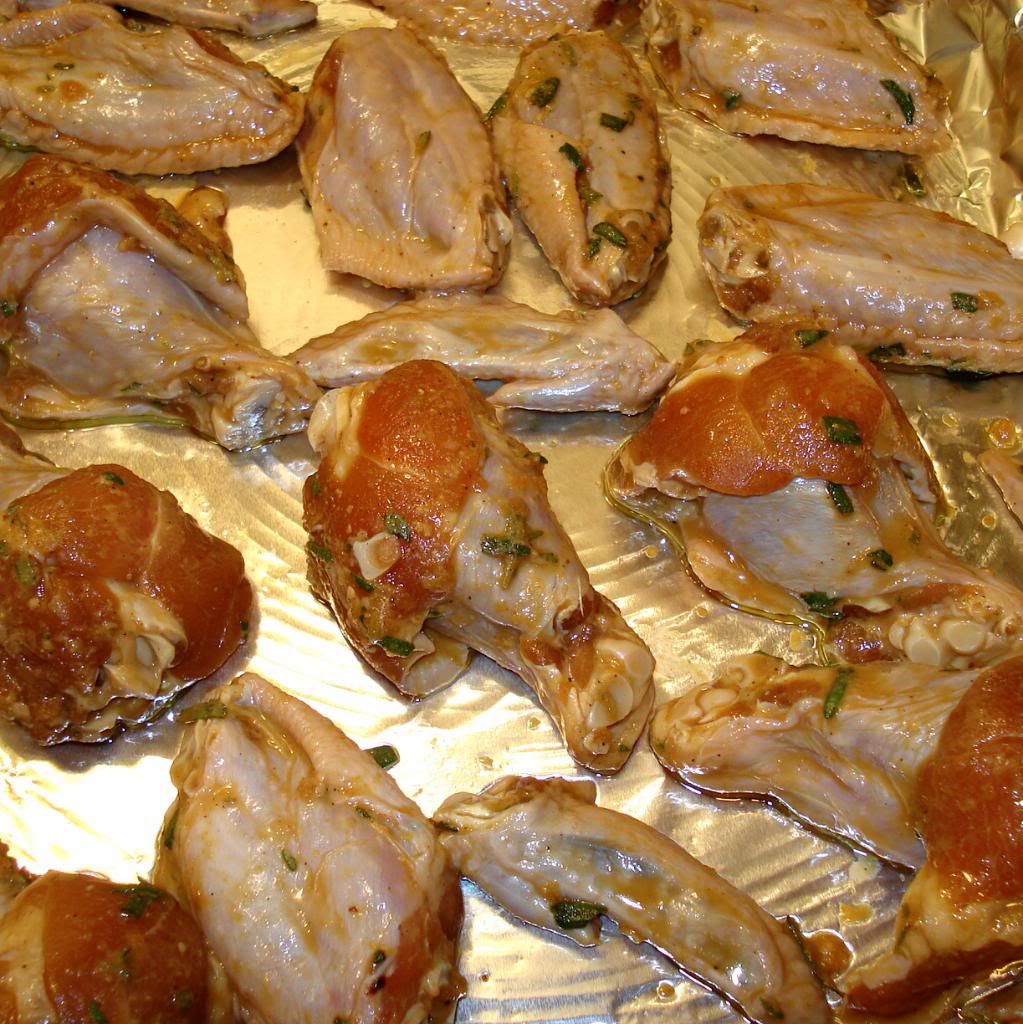 3. Remove chicken from the marinade, reserving the marinade in a small saucepan. Lay the chicken pieces skin-side down on the prepared pan and roast 30 minutes. Baste with some of the reserved marinade and turn the pieces. Brush again with the marinade and roast another 30 minutes or longer until deeply bronzed.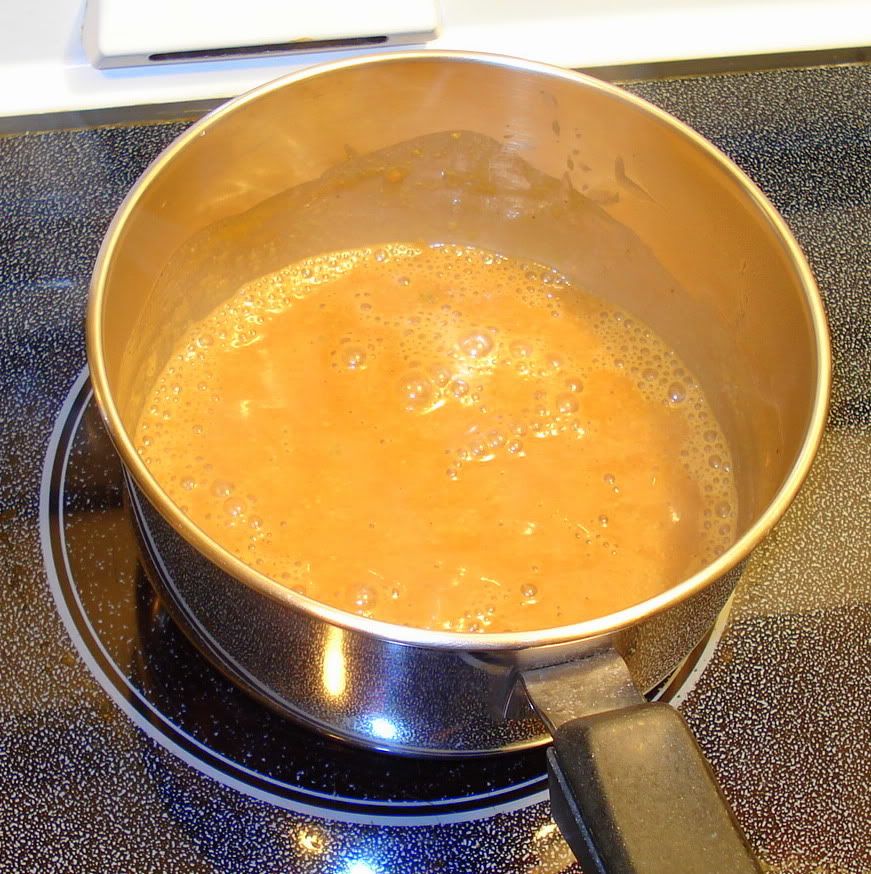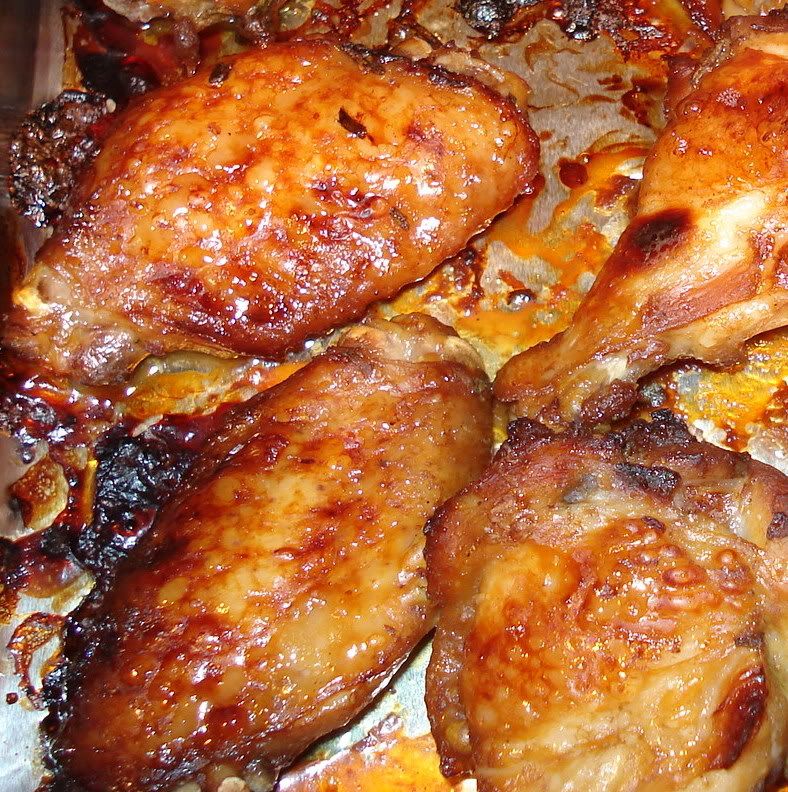 4. When the wings are almost finished bring the reserved marinade to a boil, lower heat to simmer and reduce the marinade until almost a syrup (don't allow to become a syrup -- will be bitter). Remove from heat and whisk in the tablespoon of butter. Place wings in a large bowl, pour in contents of the saucepan and turn to glaze evenly. Plate and serve.
Notes:
I thought that all the soy sauce would make the wings too salty, but they weren't. I did use extra because I had so many wings, so don't overdo it if you need to use more.
Chipotle Sweet Potato Fries
Makes enough for possibly 2 people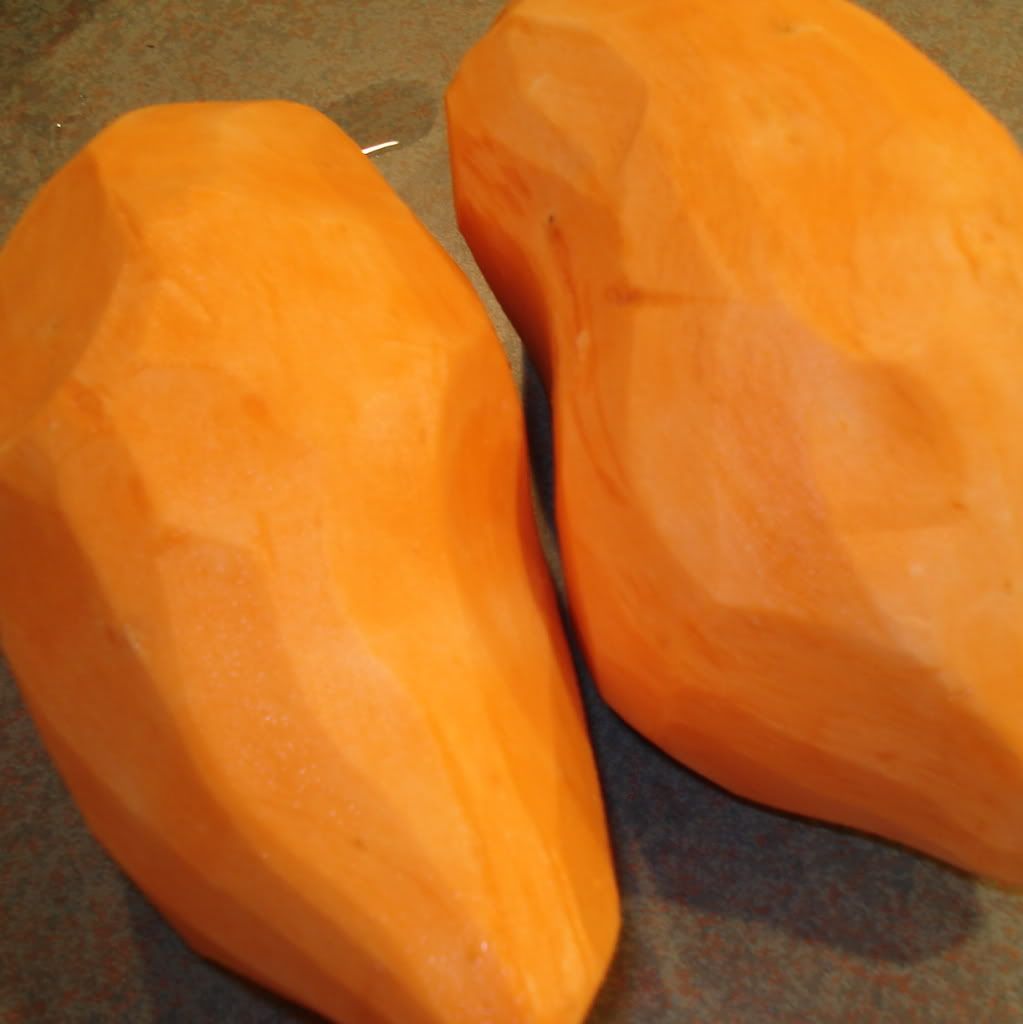 1 large sweet potato
2 tbsp olive oil + more for pan
1 tsp adobo sauce (Mexican aisle has chipotle peppers in adobo sauce - just use the sauce!)
1 tsp brown sugar
1 tsp salt
1/2 tsp chili powder
1/2 tsp cinnamon
1. Preheat oven to 400 F.
2. Peel and cut sweet potato into large sticks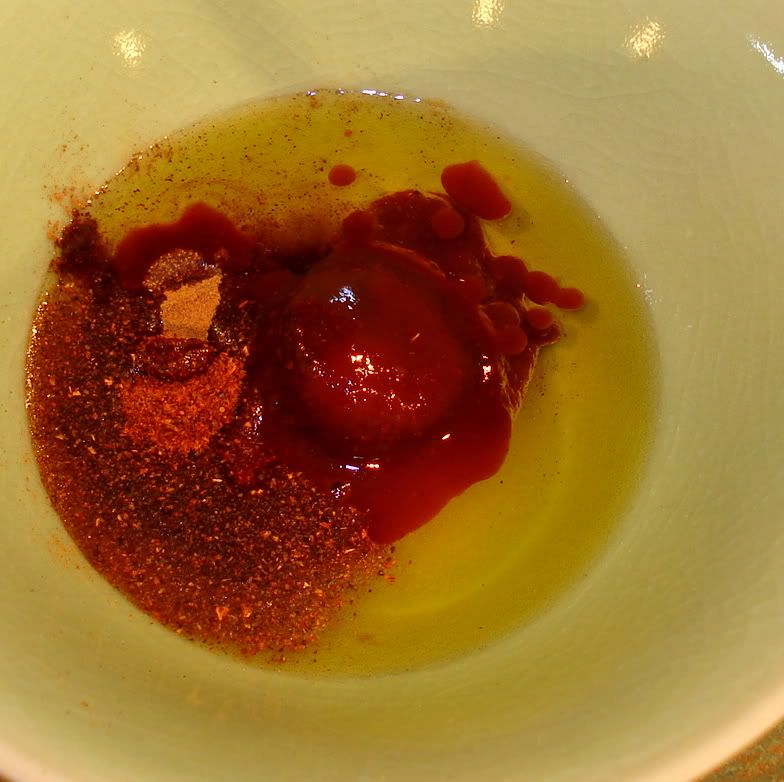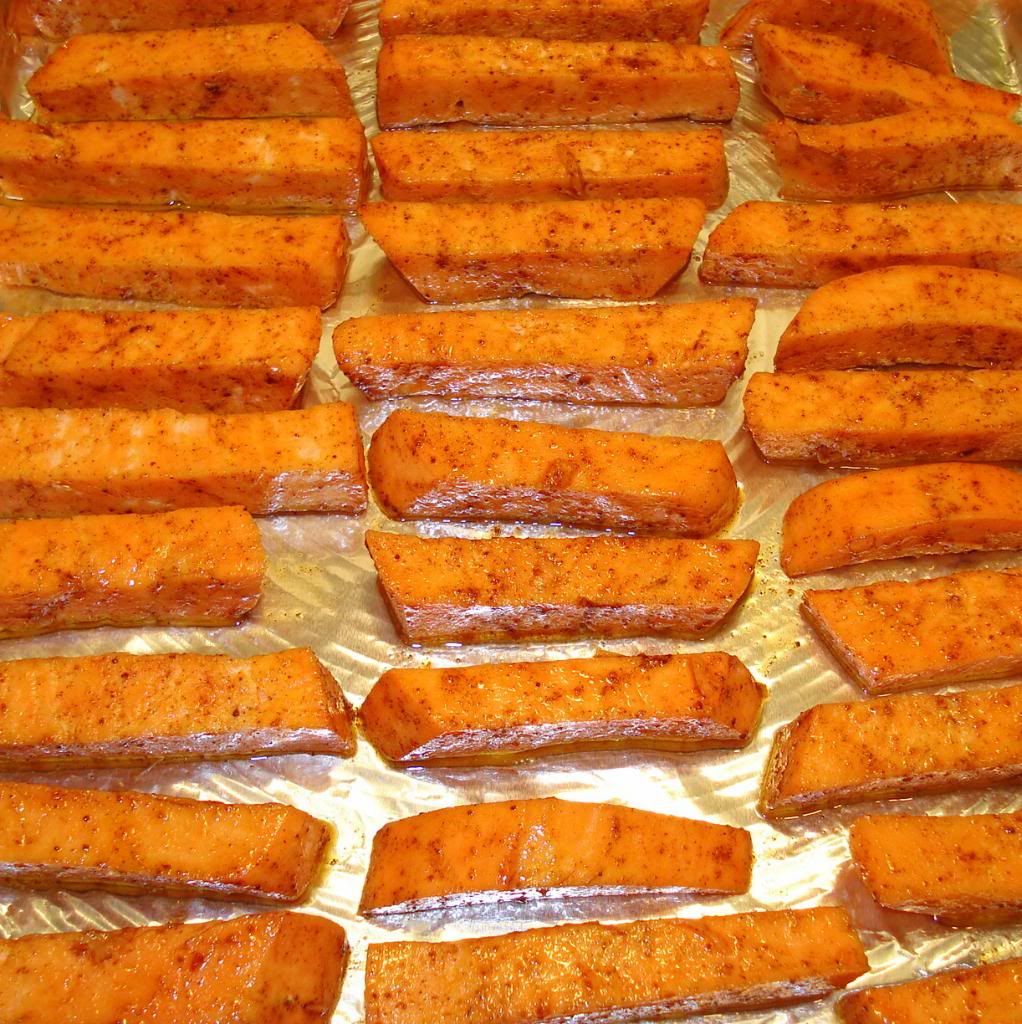 3. Whisk together oil, adobo, sugar, salt, chili powder and cinnamon.
4. In a large bowl toss potato with seasonings (I used a large tupperware container).
5. Generously oil 2 baking sheets and spread out seasoned potato sticks on baking sheets so that none of the fries are touching.
6. Place in oven for 10-15 minutes, until the bottoms are golden brown. Then gently flip each fry around so the other side is touching, making sure that the bottom of the pan is still well oiled. Bake for another 10 minutes.
7. Take out of the oven and light sprinkle with kosher salt while still hot. Serve with cool ranch dip.
Notes:
Don't cover to keep warm, just reheat in oven. Otherwise they go soggy.
Bacon Wrapped Stuffed Jalapenos
Makes 12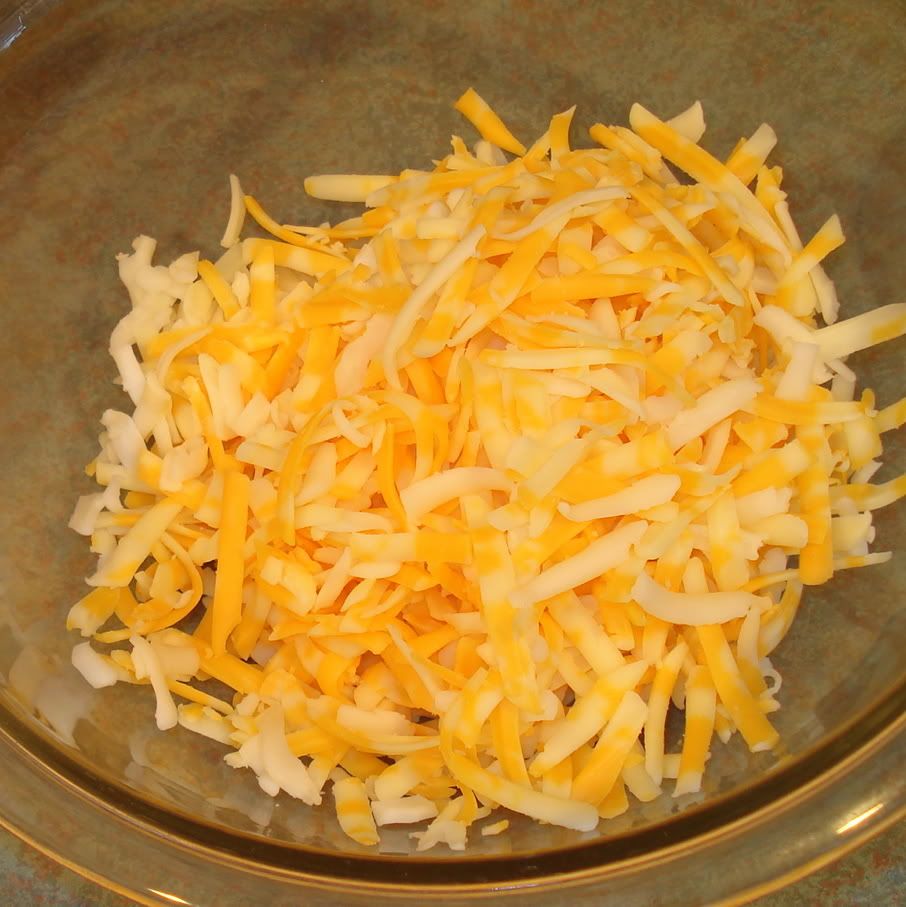 6 jalapenos sliced in half and seeds removed
6 slices bacon, sliced in half
1 lb sausage of your choice (I had 3 big chicken sausages)
2 cups sharp cheddar, shredded (I used marbled cheddar)
1. Heat oven to 400 F. Cut each jalapeno, lengthwise and remove seeds.
2. In a bowl combine cheese and sausage.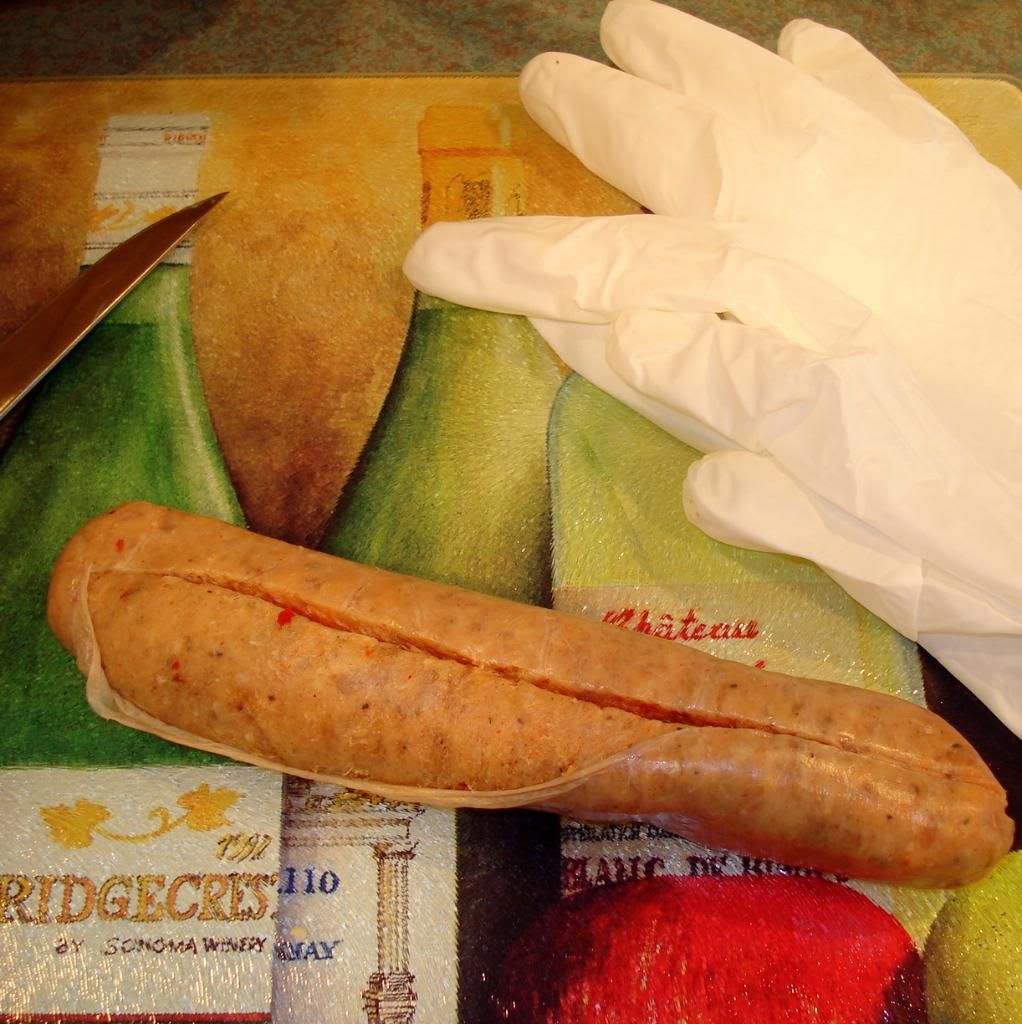 3. Fill each jalapeno with the cheese/sausage mixture and wrap with a slice of bacon. Secure bacon slice with toothpicks.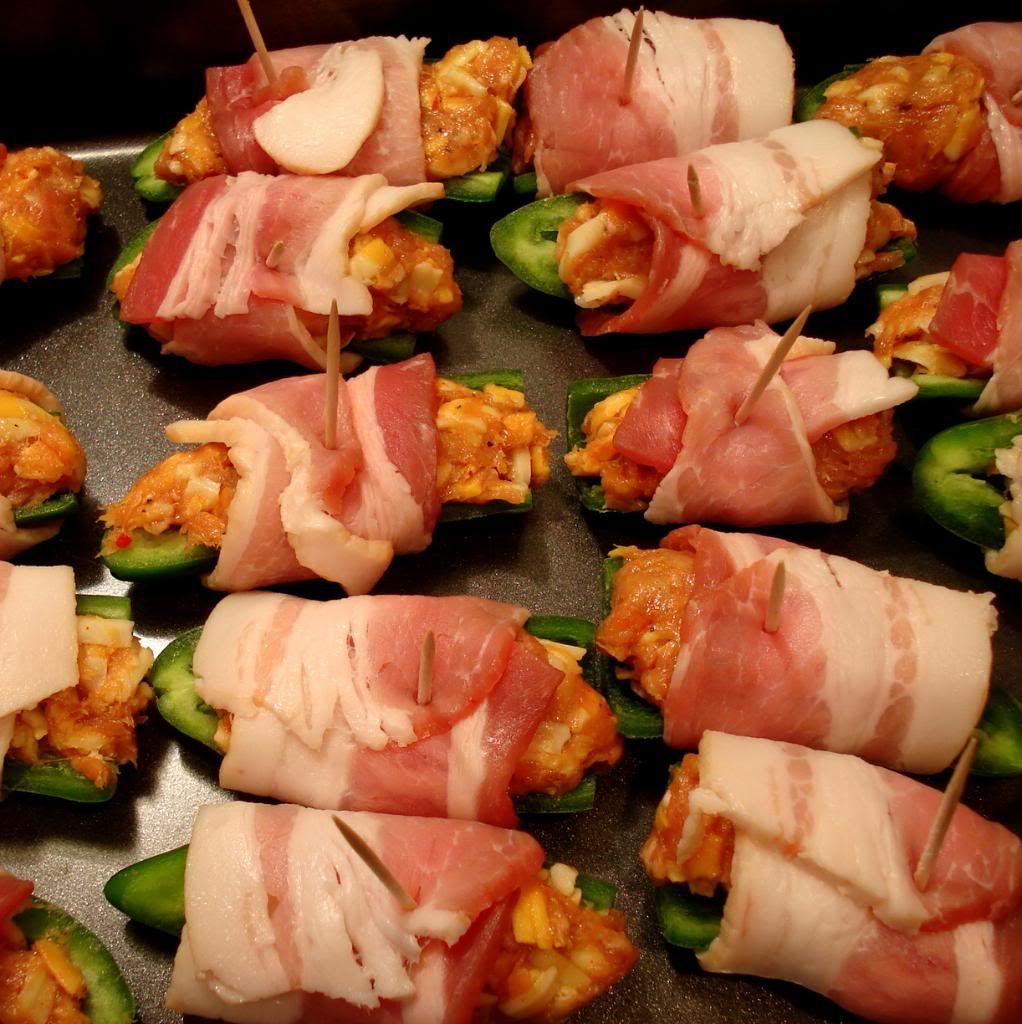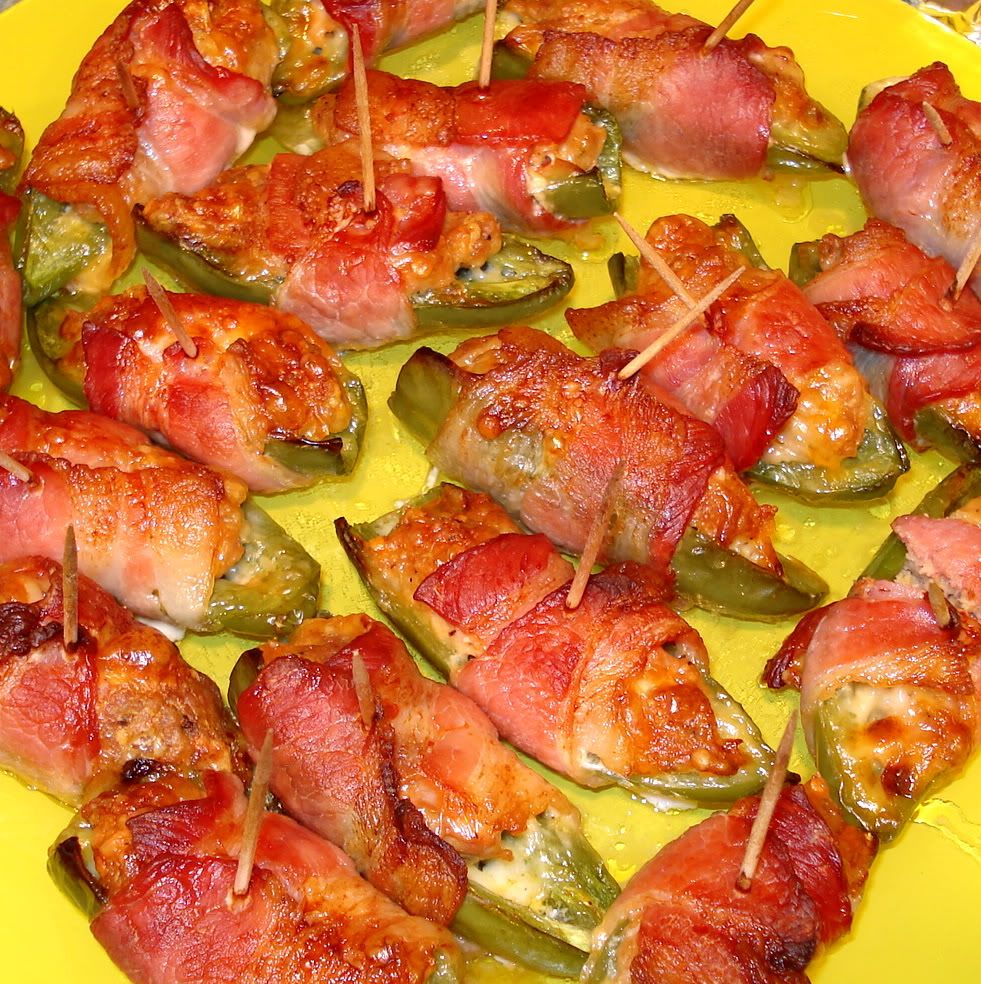 4. Place stuffed jalapenos on baking sheet and cook for about 20 minutes, or until bacon is crispy. (I cooked longer since I wanted to make sure the sausage is cooked through)
Notes:
Don't skimp on the cheese. Use more, if anything. You don't want them getting too dry. Also, I made a lot more than 12, I made 18 I think. I may have had a bit more sauces, but I did use just 2 cups of cheese.
I also made the best dessert but I'll put that in the next post - this one is getting too long.
The Verdict:
Everybody liked everything! I'm pretty sure I had more than 3 pounds of wings for 4 people so there were some leftovers. Otherwise, I didn't have anything left. Also, there weren't enough fries. So much for not spending more money on food for the Super Bowl...
Take care,
Ksenia
Original Recipes
:
TLC - Buddy's Famous Chicken Wings
,
Active Foodie - Chipotle Sweet Potato Fries
,
Sweet Life - Bacon Wrapped Stuffed Jalapenos
Back to top