The idea came from one of the guests at Nick's family gathering. The guest brought a similar dip, and we tried to recreate it at home. Ever since, Nick craves this once every couple weeks and especially on game nights. This recipe has evolved since we first made it in the summer. And yes, I mean
we
for reals! Nick grates the cheese. Possibly more... The point is, this recipe is very easy and doesn't take very much time.
I also picked up a couple beers - a Russian (Baltika) and a Polish (Tyskie). They were both pretty mild in taste. Here's what it all looked like:
Nickie's Favorite Mexican Layered Dip
I use a 9x9 baking dish to make this in, it turns out pretty thick
500 g ground beef (or 1 16 oz can refried beans for a veggie version, then don't use onion)
1/2 medium yellow or white onion, finely chopped
1 tbsp canola oil
1 (1.25 oz) package taco seasoning mix (or approx. 2 tbsp + 2 tsp - I know, my conversion skills suck since I usually season to taste)
1-1.5 cup salsa
1-1.5 cup sour cream
1/2 package plain cream cheese (one of those small containers, not the huge ones)
1 cup shredded marble cheddar
1 cup shredded mozzarella
1/4 cup chopped green onions
2 tbsp finely chopped jalapeño peppers (we used extra spicy pickled jalapenos, feel free to use fresh but don't remove all the membrane or it won't even be spicy)
1 chopped red bell pepper
Optional Additions (we haven't really tried these, but you can!)
1/4 cup chopped black olives
1 cup guacamole
1 tomato, seeded and chopped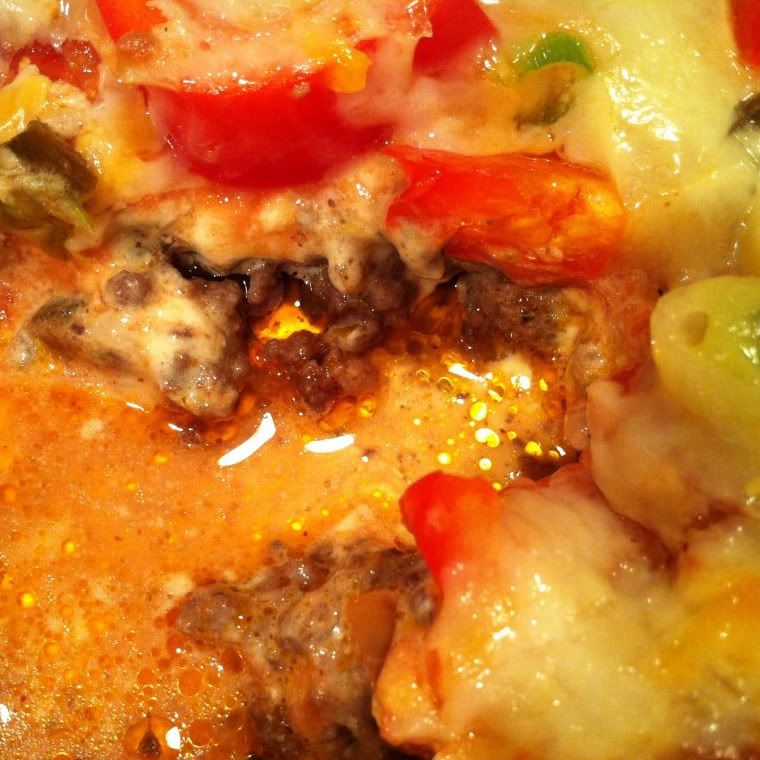 1. Preheat oven on broil to 450F and line a 9x9 baking dish with tin foil.
If you are using beef:
2. Heat up the oil in a large skillet on medium-high heat. Add chopped onion and saute until tender. Add beef and mix in 1 package taco seasoning
(I don't use packages since I have a container of taco seasoning - I season to taste, I'd say around 2-2.5 tbsp)
. Cook beef throughout until no red is left and the liquids have mostly evaporated, around 10-15 minutes. Spread the beef evenly on the baking dish.
If you are using refried beans:
2. Mix 1 package taco seasoning into the beans. Spread the beans over the bottom of the baking dish.
3. In a blender, or using a mixer of some kind
(I use my magic bullet, it's perfect for this)
, thoroughly mix cream cheese, sour cream, and 1/4 package taco seasoning (or about 1-2 tsp). Make sure that no clumps of cream cheese are left. Spread the mixture evenly over the beef/beans.
4. Spread 1-1.5 cups salsa over the sour cream, depending on how much you want in there.
5. Mix the two cheeses together. Sprinkle 1/2 of the cheese over the salsa. Sprinkle with 1/2 of each jalapeños, green onions, red peppers. Sprinkle the rest of the cheese, jalapeños, green onions, and red pepper.
6. Bake for about 10 minutes, or until the cheese fully melts and the dip starts bubbling on the edges. Serve right away with tortilla chips.
Note:
I personally prefer it more with the beef because it adds lots more flavor. Refried beans taste very blah. Feel free to season the beef or beans with salt - I add salt to the beef because I don't think there's enough salt in the seasoning. I like things salty. It's a Russian thing. If you prefer an even spicier dip, you can add some cayenne pepper to the sour cream. The reason I like to use cheddar AND mozzarella is cheddar cools very quickly and becomes a tough layer on top - chips end up breaking very easily when you're trying to scoop. Mozzarella is more moist so it retains its softness and stringiness for longer.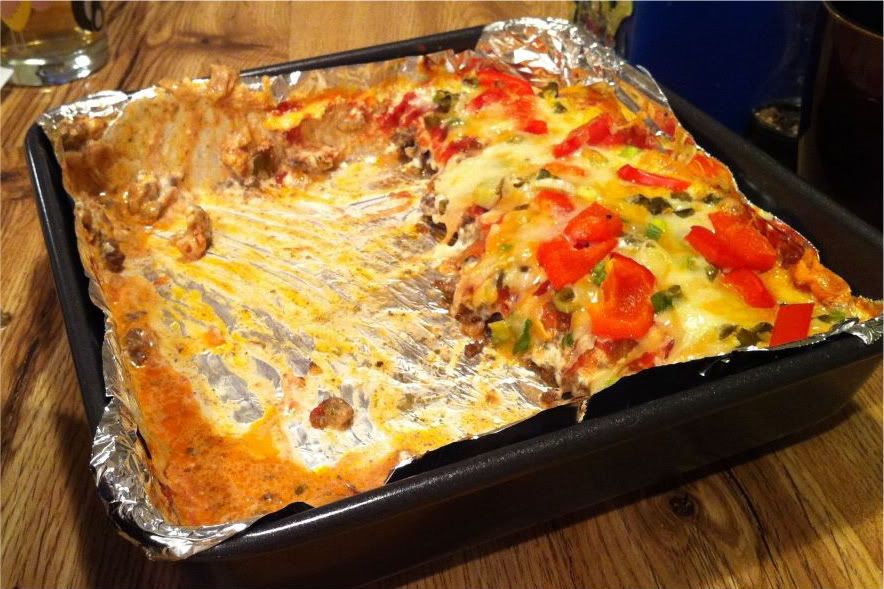 We ate a lot of it for dinner. And Nick finished off the rest the following night.
Back to top