Meh. Never made cheesecake before, but I sure have had lots of cheesecake and I know how it was supposed to turn out. I tried to find a fairly generic cheesecake recipe, and instead of a graham crackers I decided to mix in some chocolate cookies in there because Nick likes chocolate. Also, I decided to add some fruit on top, because why not? AND tried to recreate that clear jelly glaze that they top fruit tarts with (I could not find a recipe for that shizen anywhere!). Experimenting - good idea on the first try of an unfamiliar recipe, right? Uh huh...
It was okay. I probably won't be making this again to be honest. The crust, I found, was waaayy too thin. The cake - too mushy, definitely not rich enough. The jelly glaze, oh god was that stuff thick haha. Oh well, can't win 'em all, I guess. Failure are only part of the learning process. And I sure did learn.
Vanilla Cheesecake
9" cake pan
8 whole graham crackers (I weighed 8 graham crackers, and used 4 graham crackers and the rest of crispy chocolate cookies>
1 cup lightly toasted walnuts, divided
2 tablespoons light brown sugar
5 tablespoons unsalted butter, melted
1/2 cup plus 2 tablespoons granulated sugar, divided
1 tablespoon orange zest
3 (8-ounce) packages cream cheese, at room temperature (recommended: Philadelphia)
1/2 cup plus 2 tablespoons packed light muscovado sugar (dark brown sugar)
4 large eggs, at room temperature
1 large vanilla bean, seeds scraped
1 teaspoon pure vanilla extract
1/2 teaspoon salt
1/2 cup heavy cream
1. Preheat the oven to 350 F.
2. Place the graham crackers (and/or chocolate cookies), 1/2 cup of the walnuts and brown sugar in a food processor and process until finely ground. With the motor running, add the butter through the feed tube and process until the mixture just comes together. Spray the bottom and side of the pan with cooking spray. Pat the mixture evenly into the bottom of a 9-inch springform pan, place on a baking sheet and bake in the oven until lightly golden brown and just set, about 8 minutes. Remove to a baking rack and let cool completely.
(It also helps if you can figure out how to use a cake pan correctly...ugh..)
3. Combine 1/4 cup of the sugar and the orange zest in a food processor and process until combined.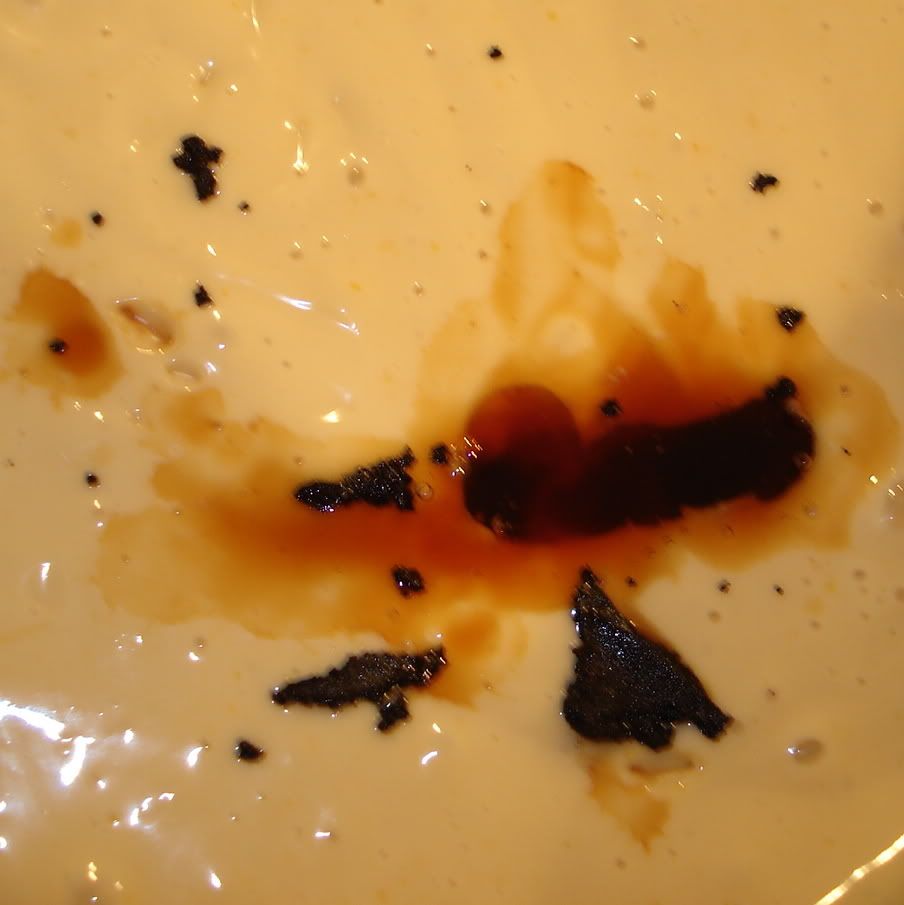 4. Place the cream cheese in the bowl of a stand fixer fitted with the paddle attachment and beat until light and fluffy, 3 to 4 minutes. Add the orange sugar, remaining granulated sugar, and light muscovado sugar and beat again until the sugar is incorporated and the mixture is light and fluffy. Add the eggs, 1 at a time and mix until just incorporated, scraping the sides and bottom of the bowl. Add the vanilla seeds and vanilla extract and beat until combined. Add the salt and heavy cream and mix until just combined.
5. Scrape the mixture into the prepared pan. Set the cheesecake pan on a large piece of heavy duty aluminum foil and fold up the sides around it. Place the cake pan in a large roasting pan. Pour hot tap water into the roasting pan until the water is about halfway up the sides of the cheesecake pan; the foil will keep the water from seeping into the cheesecake. Bake until the sides of the cake are slightly puffed and set and the center still jiggles, about 55 minutes.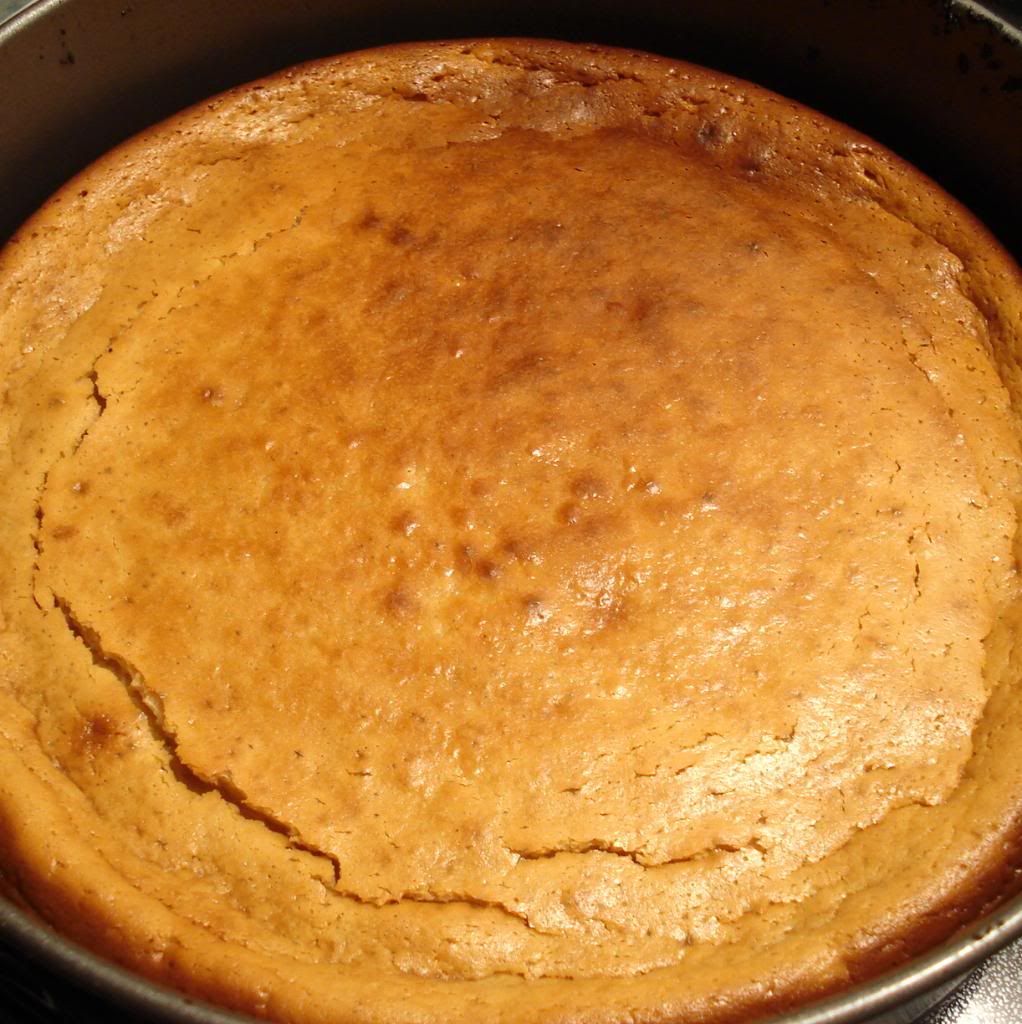 6. Turn the heat off and prop the door open with a wooden spoon and allow the cake to cook in the water bath for 1 hour. Remove the cake to a baking rack and allow to cool to room temperature for 2 hours. Cover the cake and refrigerate for at least 4 hours and up to 24 hours until chilled through.
So I just cut up some fruit to decorate - that thing in the middle is a heart made out of dragon fruit, yeah I carved that. For the glaze stuff, I took a half a package of flavorless gelatin and with some water - to be honest I just whipped it up, don't really remember how much water I put in it. It turned out waaaay too thick and bubbly. I can't believe I couldn't find a super easy recipe for this! Maybe it has some kind of a special name that I'm not aware of. Oh well, better luck next time.
The coulises:
Mango Honey Cayenne Coulis
1 mango, cubed (peeled obviously)
2-3 tbsp honey
Pinch or two of cayenne (depending on how spicy you want it)
1. Put mango in a blender (or the super useful Magic Bullet!) and blend until smooth.
2. Put mango puree, honey, and cayenne into a small sauce pan and bring to a boil over low heat. Once boiling, turn the heat down and reduce until a thicker consistency (until it covered the back of a spoon).
Blueberry Cinnamon Citrus Coulis
1 cup frozen blueberries, thawed and drained
2-3 tbsp orange juice
1/4 tsp cinnamon
1. Put blueberries into a blender and puree until smooth.
2. Put blueberry puree, orange juice, and cinnamon into a small sauce pan and bring to a boil over low heat. Once boiling, turn down the heat and reduce until a thicker consistency (until it covered the back of a spoon).
The result was ...meh... I was not a big fan. I probably won't make this cheesecake recipe again. Nuff said.
Take care,
Ksenia
Original Recipe:
Food Network - Caramel Apple Cheesecake
Back to top