A type of "breakfast for dinner" things I guess. Last night Nick and I were meeting up with some friends to go bowling so our dinner had to be quick. We did have some leftover chicken left, but it wasn't enough. So Nick suggested Original Joe's. Then we decided on eggs with veggies.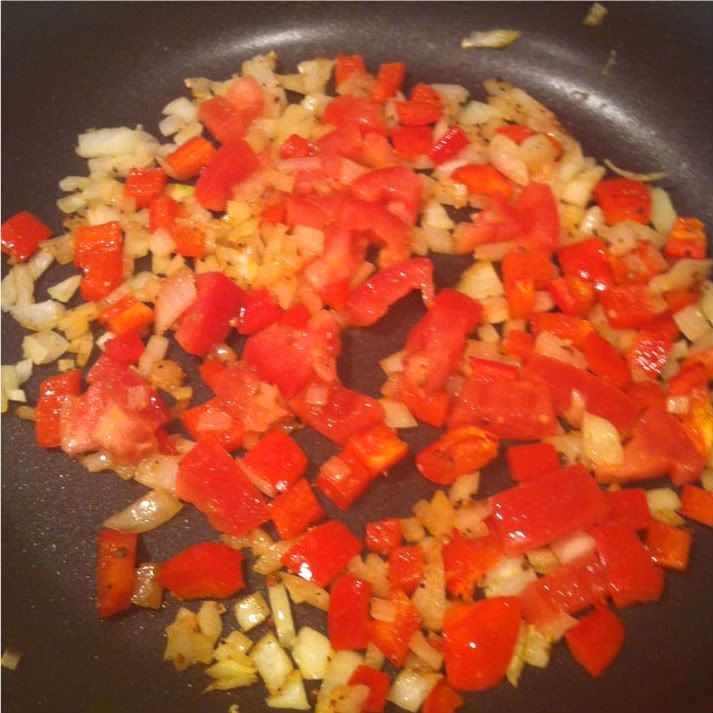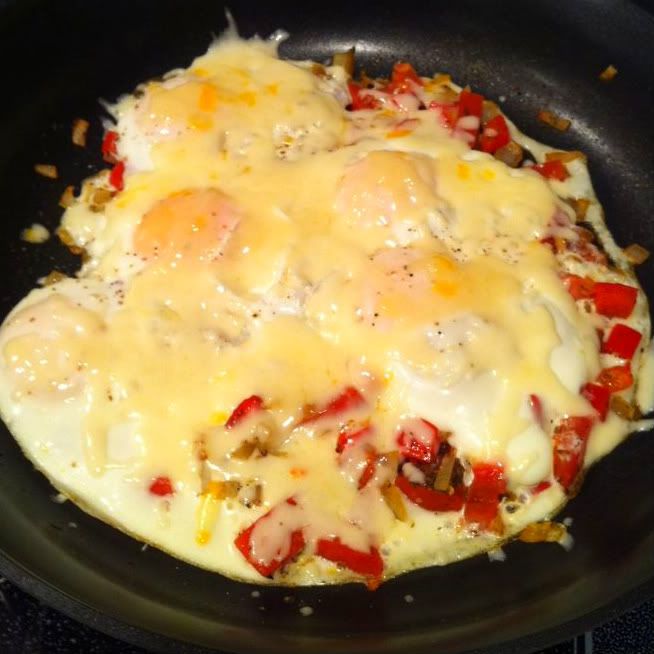 Eggs Sunny Side Up with Red Pepper, Onion and Tomato
1/2 onion, finely chopped
1/2 red bell pepper, chopped
1 small tomato, seeded and chopped
1 tbsp canola oil
salt and pepper to taste
1/2 tsp dried thyme
5 eggs
2/3 cup of whatever cheese you got, as long as you can grate it (I used mozzarella)
If you have some kind of a cooked meat, like cooked sausage, pepperoni, or chicken, feel free to add it with the veggies.
1. Heat oil in a large skillet over medium heat. Saute the vegetables until the onion is tender. Season with salt and pepper to taste, and sprinkle with thyme.
2. Carefully crack the eggs into the skillet covering the veggies evenly. Season with salt and pepper to taste. Turn the heat to low-medium as to not burn the bottom. Cook until the eggs are cooked through and white all over. I like the yolks runny, so I take the skillet off the heat a little earlier.
3. Sprinkle with grated cheese and let it melt. Serve immediately.
Notes
: If I had some green onion or cilantro, I'd sprinkle it on top of the cheese.
I like using up leftover veggies or meat with eggs for breakfast usually. Just throw in whatever you got, and eggs over top. Easy enough!
Take care,
Ksenia
Back to top